Pack 13 is in its 52nd year. We are chartered by the Oremus Center. Currently there are 40 Scouts from Tiger to WeBeLoS. Our Cubs participate in our Pack Rocket Launch each year. They also enjoy our Halloween & December holiday parties. Pinewood Derby is in January each year & Family camp is a June favorite. We graduate our 2nd year WeBeLoS in February each year. They bridge to Troop 13 in early March. Pack committee meetings are on the first Monday of each month.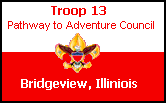 Troop 13 is in its 60th year of service to the community. It started as a Troop during WWII and was very active during that time. In 1954 the charter was not renewed and the Troop was idle for about 7 months. Troop 13 was restarted in February 1955 and has been going steady for the past 59 years. Troop 13 meets at the Oremus Center on Tuesdays from 6:30-8:00pm. Troop committee meetings are on the second Wednesday of each month.

Crew 13 is in it's 15th year. The Crew will be putting the "outing" back into Scouting this year. Campouts, Unit Events, & "High Adventure" days are planned in 2015. Contact our Crew President, for the latest news. Crew 13 will hold meetings on the third Tuesday of each month, from 7-8pm, at the Oremus Center.

This site was updated on 10/31/15
.